Following the Path of the Infamous Raid on Harpers Ferry

The Raid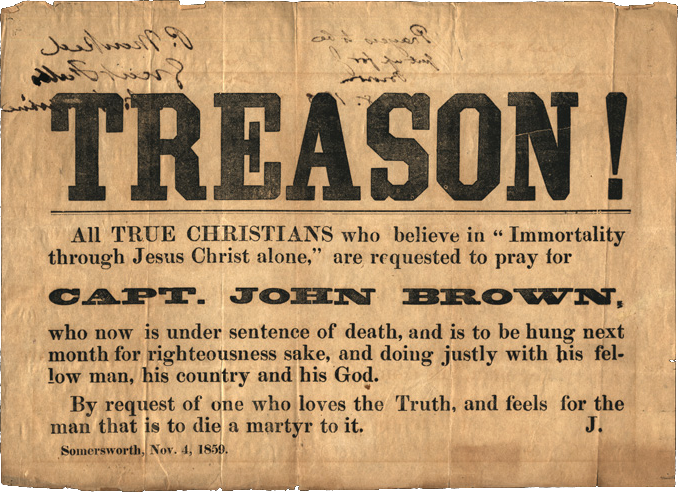 On October 16, 1859, John Brown led a small army of 18 men into the small town of Harpers Ferry, Virginia. His plan was to instigate a major slave rebellion in the South. He would seize the arms and ammunition in the federal arsenal, arm slaves in the area and move south along the Appalachian Mountains, attracting slaves to his cause. He had no rations. He had no escape route. His plan was doomed from the very beginning. But it did succeed in deepening the divide between the North and South.
John Brown and his cohorts marched into an unsuspecting Harpers Ferry and seized the federal complex with little resistance. It consisted of an armory, arsenal, and engine house. He then sent a patrol out into the country to contact slaves, collected several hostages, including the great grandnephew of George Washington, and sat down to wait.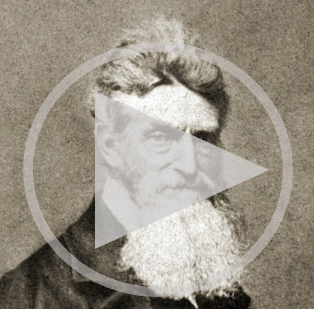 Trial and Execution in Charles Town
Brown was charged with treason against the Commonwealth of Virginia, multiple first-degree murders, and inciting an insurrection among Virginia slaves. The trial took just over a week, starting on Tuesday, October 25, 1859 and concluding on Wednesday, November 2, 1859. Brown was executed a month later in Charles Town, just a few blocks from the jail and courthouse.
This tour follows the path of John Brown's Raid from start to finish.  Travelers will start at the Kennedy Farmhouse, where Brown and his men stayed in the weeks preceding the attack on Harpers Ferry and finish at the spot where Brown's life came to an end at the sacrifice of his cause.  The tour will require some moderate walking and admission to various historical sites.  Take the path of John Brown and his men as they changed the course of American History and sparked the American Civil War.
Tour starting point:  Kennedy Farm, Sharpsburg, Maryland
Start at the Kennedy Farm, a Maryland State Historic Site, 2406 Chestnut Grove Rd, Sharpsburg, MD 21782
Stop 1 – The Kennedy Farm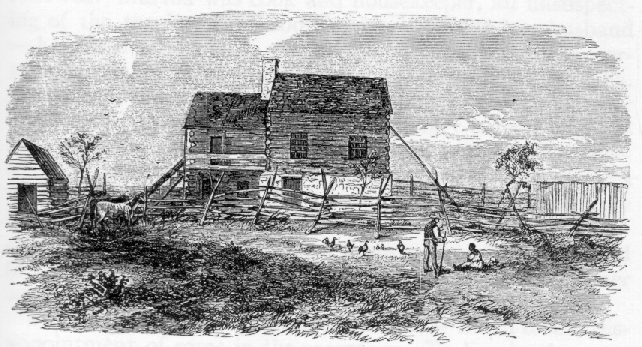 John Brown arrived here in Maryland on July 3, 1859 and rented this house, owned by the heirs of Dr. Booth Kennedy. For three months Brown planned the raid on Harpers Ferry, seven miles away. During that time he assembled his group of family members and followers, as well as a small arsenal of weapons to assault the Harpers Ferry arsenal.  The log, stone and brick building has retained its historical integrity and is essentially the same as it was in 1859. It was designated a National Historic Landmark on November 7, 1973.
Following the tour: Head southwest on Chestnut Grove Road, go 0.5 miles. Take a slight left onto Harpers Ferry Road, go 4 miles. Harpers Ferry Road turns slightly left and becomes Sandy Hook Road, go 1.5 miles.  Turn left  onto Keep Tryst Road, go 0.2 miles. Turn right onto Valley Road, going roughly 250 feet.  From there  turn left at the 1st cross street onto US-340 South, go 7 miles.  Turn right onto Old Country Club Road, go 0.5 miles.  Turn right onto Beallair Manor Drive and go 0.5 miles.   The next stop, Beall-Air will be on your right.
Stop 2 – Beall-Air
Lewis William Washington inherited several relics of George Washington, including a sword allegedly given by Frederick the Great to Washington and a pair of pistols given by Lafayette. John Cook, who served as John Brown's advance party at Harpers Ferry, befriended Washington and noted the relics, as well as the slave population at Washington's Beall-Air. Brown was fascinated with the Washington relics. During Brown's raid on Harpers Ferry a detachment from his force led by Cook seized the sword and pistols along with Washington at Beall-Air, taking along three of Washington's slaves. The hostages were taken to Harpers Ferry by way of the Allstadt House and Ordinary, where more hostages were taken. All survived their captivity, and Washington identified Brown to the Marine rescue party.
Following the tour: Head south on Beallair Manor Drive toward Old Country Club Road, go 0.5 miles.  Turn left onto Old Country Club Road, go 0.7 miles. Turn left onto US-340 North, go 2.5 miles.  Turn right onto Millville Road, go 0.3 miles.  Take a left onto Alstadt's Hill Road, go 0.3 miles.  The next stop, Allstadt's House & Ordinary, will be on your left.
Stop 3 – Allstadt's Ordinary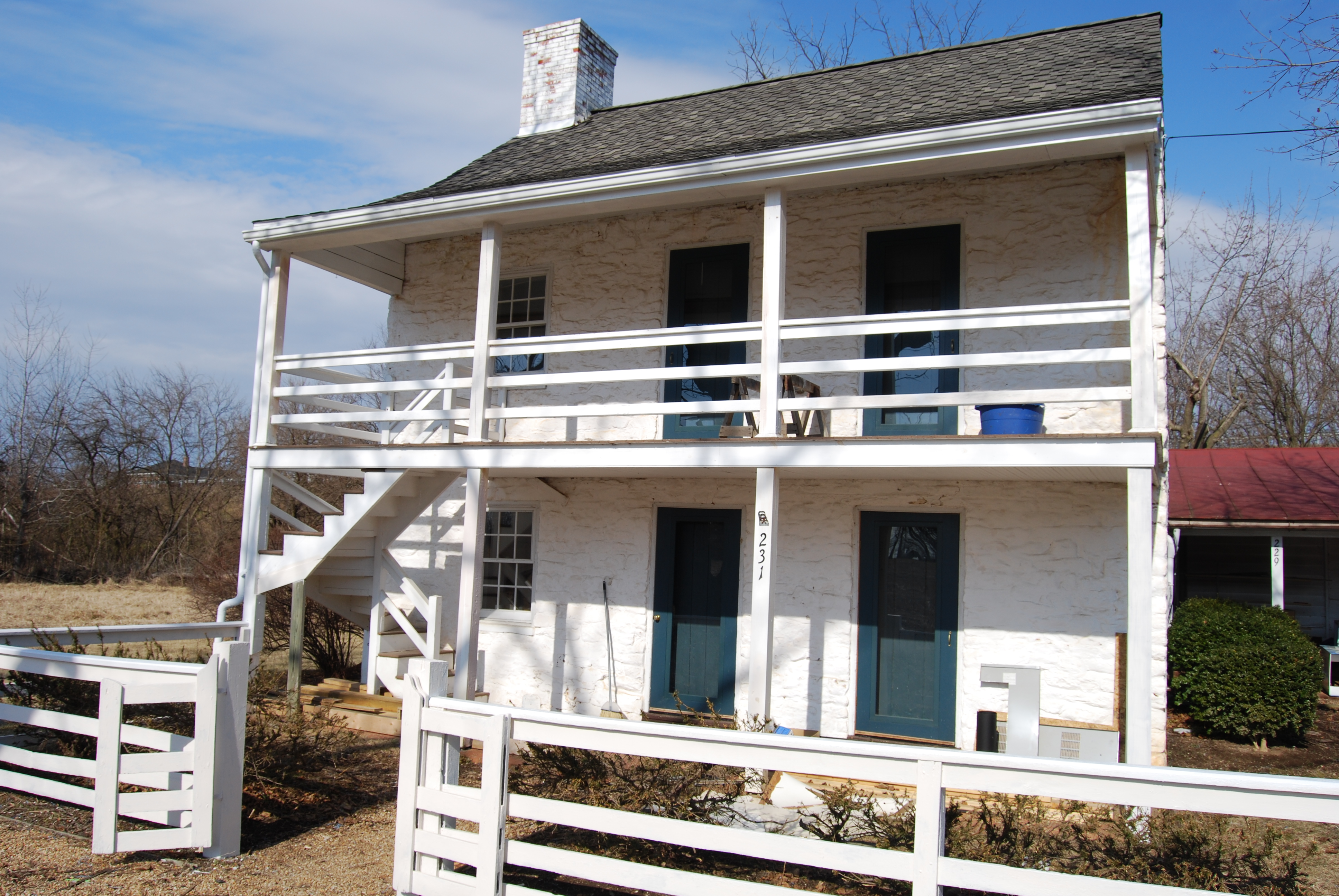 On their return to Harpers Ferry with Washington the party stopped at Allstadt's and took Allstadt, his son John Thomas, and seven slaves prisoner. Allstadt operated an ordinary, or tavern, in the house, and a tollgate on the Harpers Ferry-Charles Town Turnpike, while he resided farther down the road in a stone house. The house was enlarged by the Allstadts c. 1830. The house remained in the family until the death of John Thomas Allstadt in 1923, the last survivor of John Brown's Raid.
Following the tour: Return southwest on Alstadts Hill Road toward Reveille Road, go 0.2 miles.  Turn right onto Millville Road, go 0.3 miles.  Turn right onto US-340 North, go 0.9 miles. Turn right onto Shoreline Drive, going 0.1 miles. Entering into Harpers Ferry National Historical Park.  Admission to the Park is $10.  From there, drive, shuttle or hike down to the Park's lower town.  The next stop, John Brown's Fort, is roughly located at 814 Shenandoah Street, Harpers Ferry.
Stop 4 – Besieged and Captured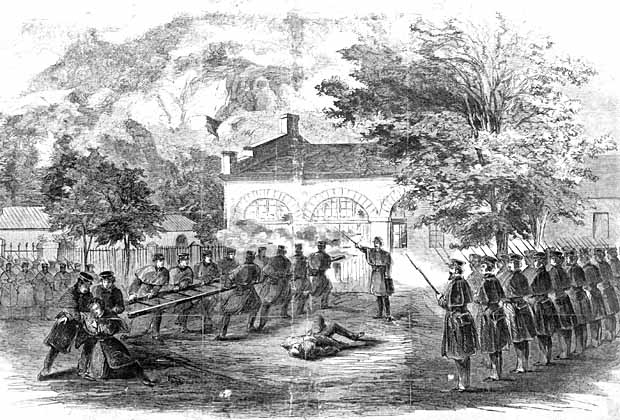 Brown's raid attained initial success on October 16th & 17th. Slashing the telegraph wires to cut off the town from the outside world, the raiders captured the local armory, arsenal and rifle manufacturing plant. They then rounded up 60 men who were reporting to work at the armory as hostages. Unfortunately, the raiders were unsuccessful in their attempt to isolate the town. A B&O Railroad train was detained as it passed through, but allowed to continue on its journey to Baltimore. Once it reached its destination, the alarm was raised and militia were sent to the rescue. They  surrounded the town preventing the raiders' escape.  Realizing his predicament, John Brown led his men, along with nine hostages, to the small fire engine house adjacent to the armory.  However, this sanctuary from the fire storm did not last long, when in the late afternoon US Marines under Colonel Robert E. Lee arrived and stormed the engine house, killing many of the raiders and capturing Brown.
Following the tour: Exit the Park southeast on Shoreline Drive, headed back toward US-340, go 0.1 mile to the stop light.  Turn left onto US-340 South, go 6 miles into Charles Town, West Virginia. The next stop on the tour, site of the Old Charles Town Jail and current US Post Office will be on your left.  Street Parking is available. 
Stop 5 – Jailed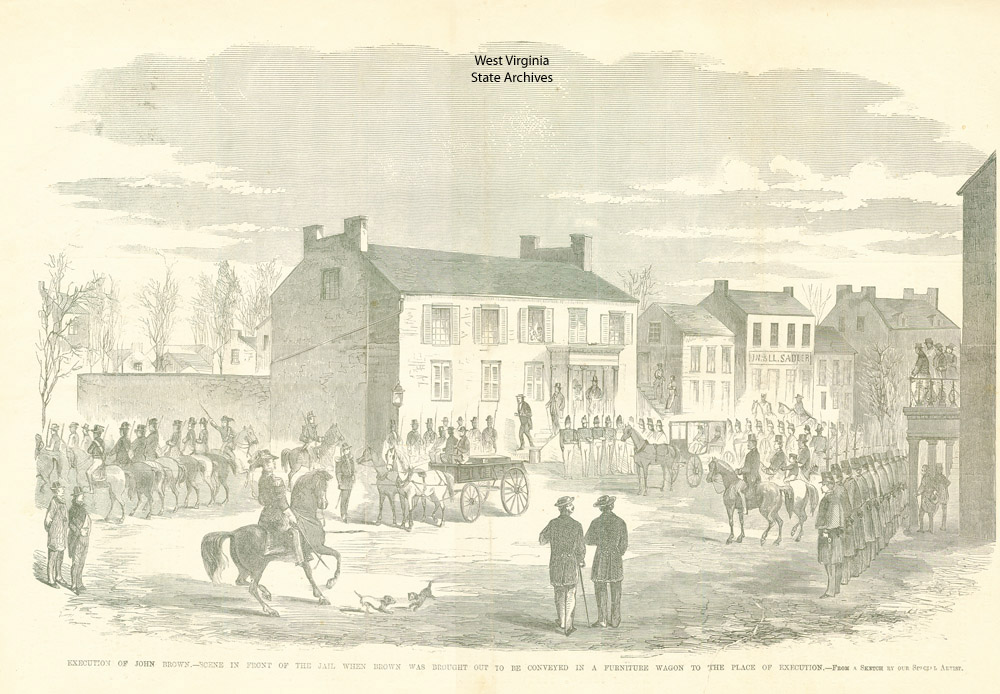 During his time in Charles Town, Brown was held in a jailhouse which stood on this corner, which is currently occupied by the Charles Town Post Office building.  Brown, who was injured during his capture at Harpers Ferry, initially asked for a continuation of his trial to allow for his recovery. The request was denied and Brown received medical care in the jail.  While at trial, Brown was brought into court on a stretcher while his attorneys pleaded his case.  Jailer John Avis became close with Brown during their time together.
Following the tour:  Directly adjacent to the Post Office location is the Jefferson County Courthouse, where John Brown was tried. You may enter into the Courthouse during business hours to view part of the courtroom where the trial took place, starting on October 25, 1859.
Stop 6 – The Treason Trial in Charlestown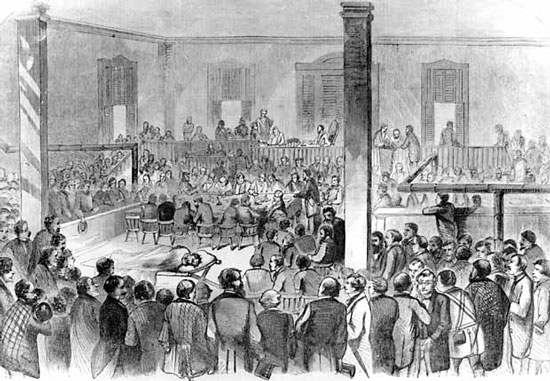 Despite Brown's offenses having occurred on Federal property, he was brought to trial in the nearby Virginia State Circuit Courthouse. His defense lawyers were appointed by the court, and they expressed strong misgivings about the case. The recent insurrection and hysteria in the community led to Brown's trial being rushed with very little time to prepare for a defense just one week after the Harper's Ferry raid. During the opening arguments, Brown's appointed defense counsel admitted the fact of the crimes, shared in the outrage of the community, and apologized for defending Brown. The principal witness for the prosecution was Lewis Washington, who had been captured by Brown and his Raiders at his home, Beall-Air. John Brown was convicted of all the charges on November 2, 1859 after the jury deliberated for only 45 minutes.  Brown and six of his captured men were all sentenced to death by hanging.
Following the tour:  From the Courthouse entrance, head northeast on East Washington Street, toward North Samuel Street, walking roughly 300 feet.  Turn right onto the first cross street onto South Samuel Street, go 0.3 miles.  The final stop on the tour, John Brown's hanging site will be on your left.
Stop 7 – "I John Brown…"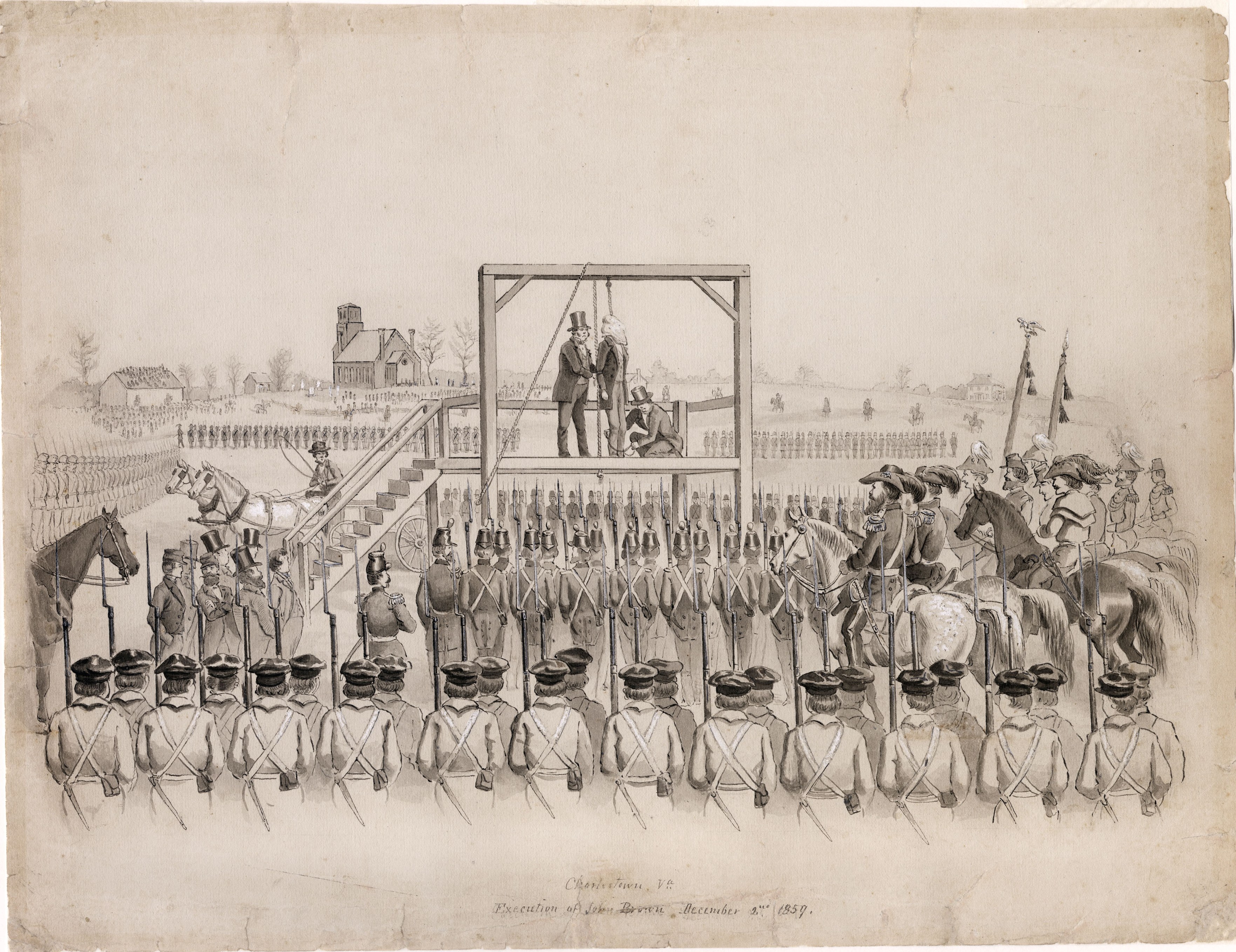 John Brown was hanged on December 2, 1859, shortly before noon in what was then a vacant field several blocks away from the county jail where he was incarcerated. John Wilkes Booth and the future Stonewall Jackson were present among the 2,000 Virginia militia for the proceeding. His final words, a note passed to a supporter on his way out to the heavily protected field gallows, read:
"Charlestown, Va. 2nd December, 1859. I John Brown am now quite certain that the crimes of this guilty land: will never be purged away; but with Blood. I had as I now think: vainly flattered myself that without very much bloodshed; it might be done."
Stop 8 – Jefferson County Museum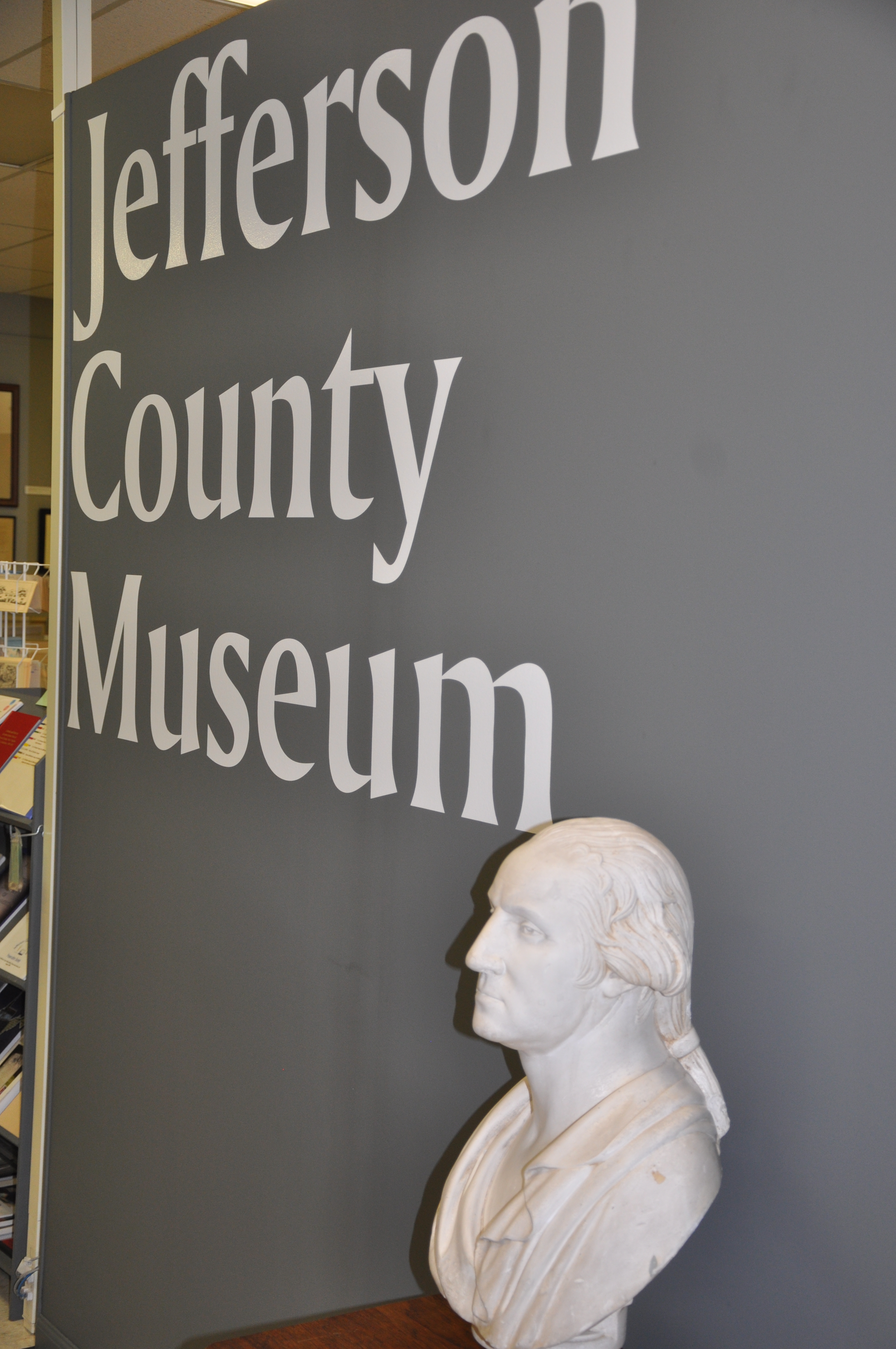 The wagon that carried Brown to his execution, along with other materials associated with the event are also located at the Jefferson County Museum. One of those associated items is the desk of Brown's jailer, John Avis.  This excellent museum also has a vast collection of Civil War artifacts along with additional items related to Jefferson County, West Virginia's vast history.  The fee is $3 and the Museum is open from 11am to 4pm, March through December.
End of tour.
Click here to download a PDF copy of this tour!
The tour was produced in a partnership between the Jefferson County Convention and Visitors Bureau and the Jefferson County Historic Landmarks Commission.  Referenced materials for this tour came from Harpers Ferry National Historical Park, the Jefferson County Museum and the West Virginia GeoExplorer Project.